The Replay board was designed as a low cost universal development board for running the cores provided here. It was time consuming to port the designs to 3rd party reference boards, many of which had features we didn't need. The board provides a high quality base platform, which can be expanded with various daughter boards for specific applications.
It is available to buy, see below for resellers.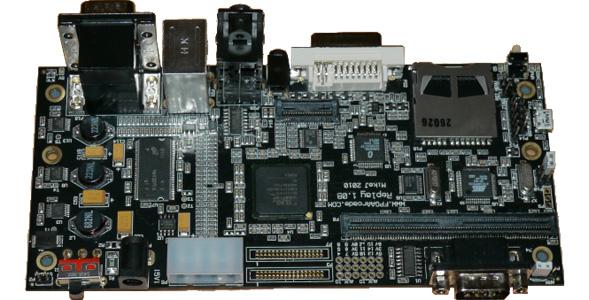 Tiny size of 140x100mm, fits any mini-ITX cabinet.
ATX back panel available.
Large Xilinx FPGA (1.6M Gates).
ARM System controller.
64 MB DDR2 DRAM.
Wolfson HI-FI quality audio DAC.
SD slot, DVI out, USB, PS/2 and serial connectors.
High quality video output including DVI and analogue output.
Video output buffered by line driver with programmable filter. Option for SVHS/Composite video out using dedicated coder.
3 channel programmable clock generator – can generate exact base clocks for PAL/NTSC Amiga for example.
Expansion slot for JAMMA expansion board, MC68060+Ethernet board, etc.
Six layer PCB for good signal integrity and stability.
A hardware wrapper and flexible firmware support for using cores on this board is provided, see the Replay Framework page for details.