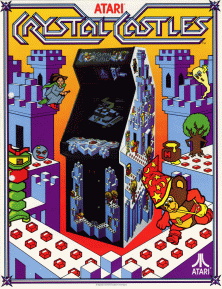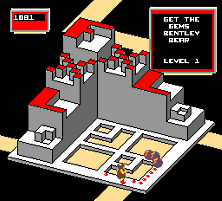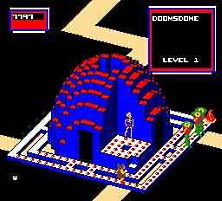 Crystal Castles has nine levels with four castles each, and a tenth level which features a single castle — the clearing of which ends the game. Each of the 37 trimetric-projected castles consists of a maze of hallways filled with gems and bonus objects and also includes stairs, elevators and tunnels that the player can use as shortcuts. The three-letter initials of the player with the highest score are used to form the first level's castle structure. When all gems in a castle have been collected, a tune of the Nutcracker Suite is played, and the player moves on to the next castle. The player can also skip some castles and acquire additional lives and points by using secret warps activated by making Bentley Bear jump at special locations.
Crystal Castles contains two notable easter eggs. Jumping 100 times or more in the southeast corner of level 1‒1 and clearing the maze of all gems will make ATARI appear on level 1‒2. On level 5‒4, if the player kills Berthilda and goes to the corner of the area where she was and jumps, "FXL" will appear in the southeast corner of the screen. These are the initials for Franz X. Lanzinger, a designer of Crystal Castles.
Please read the "Notes" file for documentation.
IMPORTANT NOTE :
NO ORIGINAL ROM CONTENTS ARE IN THIS DISTRIBUTION. YOU WILL NEED THE ORIGINAL/ALTERNATIVE ROM FILES TO RUN THE CRYSTAL CASTLES GAME