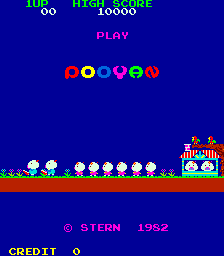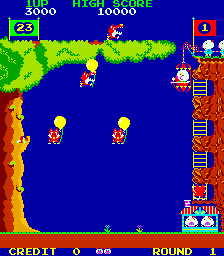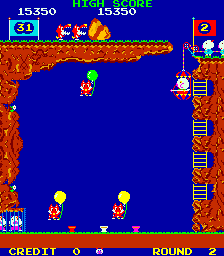 ## Video output
R1 and V4 both output 640×480 progressive with 60 Hz on DVI (-A and -D) and HDMI, respectively.
Pooyan Gameplay.
The player controls Mama Pig, whose babies have been kidnapped by a pack of wolves and who must rescue them using a bow and arrow and slabs of meat. Controls consist of a two-position up/down joystick, which moves an elevator in which Mama Pig rides; and a button, which fires arrows and throws meat.
Controls ### Joystick
Attach joystick to port 1. A second joystick is currently not supported.
Keyboard ### Virtual keyboard
The joystick in port 1 is emulated in parallel using the virtual keyboard:
* Cursor up, down, left, right
* enter -> fire
* key 5 -> coin
* key 1 -> start 1
# Acknowledgements
* FPGA conversion by Arnim Laeuger, based on Pooyan by Dar (darfpga@aol.fr)
* T80 core by Daniel Wallner, Mike Johnson
https://opencores.org/projects/t80
* YM2149 core by Mike Johnson
* Graphics also credited to Arcade Museum

Please read the "Readme.md" file for documentation.
IMPORTANT NOTE :
NO ORIGINAL ROM CONTENTS ARE IN THIS DISTRIBUTION. YOU WILL NEED THE ORIGINAL/ALTERNATIVE ROM FILES TO RUN THE POOYAN GAME. All logos are copyright to the respective holders.