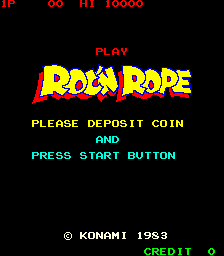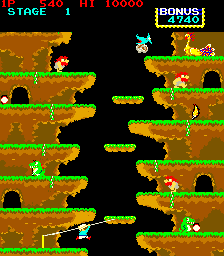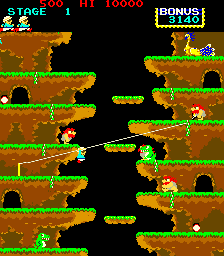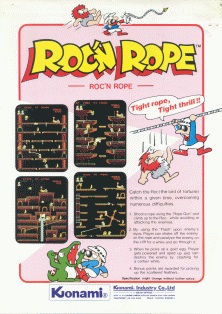 ## Video output
R1 and V4 both output 640×480 progressive with 60 Hz on DVI (-A and -D) and HDMI, respectively.
Roc'n Rope Gameplay.
The player has to avoid ferocious man-sized dinosaurs and belligerent red-haired cavemen against which are there aren't direct means of offense. The only ways to defeat the opponents is either temporary (dazing them with the flashlight) or indirect (waiting for them to be suspended on a harpoon rope to make them fall down), an element which adds a certain amount of trickiness to the game. Bonus items to collect include fallen phoenix feathers and phoenix eggs, which grant the player invulnerability from the prehistoric denizens for a short period of time.
Controls ### Joystick

Attach joystick to port 1. A second joystick is currently not supported.
Keyboard ### Virtual keyboard

The joystick in port 1 is emulated in parallel using the virtual keyboard:
* Cursor up, down, left, right
* enter -> rope
* dot -> flash
* key 5 -> coin
* key 1 -> start 1
Acknowledgements
* FPGA conversion by Arnim Laeuger, based on Pooyan by Dar (darfpga@aol.fr)
* cpu09 core by John E. Kent
https://opencores.org/project,system09
* T80 core by Daniel Wallner, Mike Johnson
https://opencores.org/projects/t80
* YM2149 core by Mike Johnson
* Graphics also credited to Arcade Museum
Please read the "Readme.md" file for documentation.
IMPORTANT NOTE :
NO ORIGINAL ROM CONTENTS ARE IN THIS DISTRIBUTION. YOU WILL NEED THE ORIGINAL/ALTERNATIVE ROM FILES TO RUN THE Roc'n Rope GAME. All logos are copyright to the respective holders.