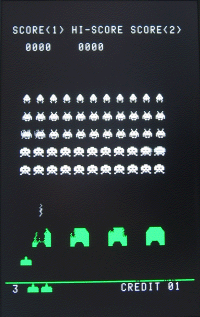 Space Invaders, designed and programmed by Toshihiro Nishikado for Taito in 1978, was the first mainstream arcade game and remains one of the most popular ever made.
Here is a VHDL model of the Midway 8080 system and game boards. Including Space Invaders, Dog Patch and Sea Wolf.
The invaders_rel0300 release contains Space Invaders with audio and colour overlay and is targeted at the Spartan3E starter kit board. It also contains a simple scan doubler which converts the approx 15K line scan output to a 30K line rate suitable for VGA monitors. Sean Riddle has created a version which uses the external Strataflash on the board, and this allows 16 different games to be supported. See the Readme file in the distribution for details on the games and the build_invmulti_roms.bat file for the roms needed.
History
Version 0300
Audio & Scan doubler, Spartan3E target.
Version 0244
Latest T80 cpu core, Leonardo synthesis fixes.
Version 0242
Minor fixes, Sea Wolf and Dog Patch added.
Version 0241
Initial Release.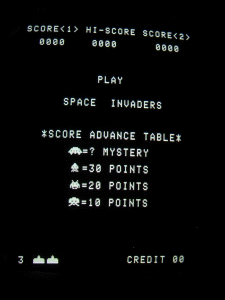 Actual photos taken by compiling and running the code here!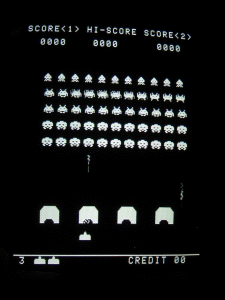 Note, the red and green colours on the original were achieved with coloured plastic strips!
IMPORTANT NOTE : NO ROM CONTENTS ARE IN THIS DISTRIBUTION YOU WILL NEED THE ORIGINAL/ALTERNATIVE ROM FILES TO RUN THE GAME
THIS CODE IS PROVIDED BY THE COPYRIGHT HOLDERS AND CONTRIBUTORS "AS IS" AND ANY EXPRESS OR IMPLIED WARRANTIES, INCLUDING, BUT NOT LIMITED TO, THE IMPLIED WARRANTIES OF MERCHANTABILITY AND FITNESS FOR A PARTICULAR PURPOSE ARE DISCLAIMED. IN NO EVENT SHALL THE AUTHOR OR CONTRIBUTORS BE LIABLE FOR ANY DIRECT, INDIRECT, INCIDENTAL, SPECIAL, EXEMPLARY, OR CONSEQUENTIAL DAMAGES (INCLUDING, BUT NOT LIMITED TO, PROCUREMENT OF SUBSTITUTE GOODS OR SERVICES; LOSS OF USE, DATA, OR PROFITS; OR BUSINESS INTERRUPTION) HOWEVER CAUSED AND ON ANY THEORY OF LIABILITY, WHETHER IN CONTRACT, STRICT LIABILITY, OR TORT (INCLUDING NEGLIGENCE OR OTHERWISE) ARISING IN ANY WAY OUT OF THE USE OF THIS SOFTWARE, EVEN IF ADVISED OF THE POSSIBILITY OF SUCH DAMAGE.
You are responsible for any legal issues arising from your use of this code.
You must agree to this disclaimer before downloading the code.