The Replay board
The Replay board was designed as a low cost universal development board for running the cores provided here. It was time consuming to port the designs to 3rd party reference boards, many of which had features we didn't need. The board provides a high quality base platform, which can be expanded with various daughter boards for specific applications.
A hardware wrapper and flexible firmware support for using cores on this board is provided, see the Replay Framework page for details.
Resellers
Amedia Computer (Europe) CBM Stuff / Jim Drew (USA).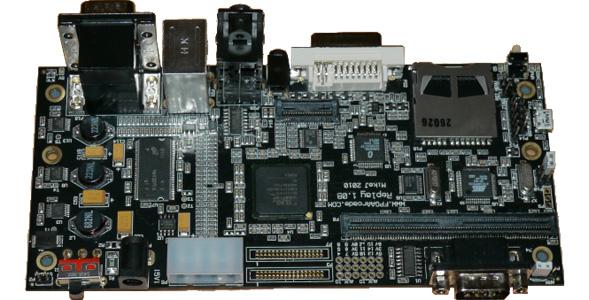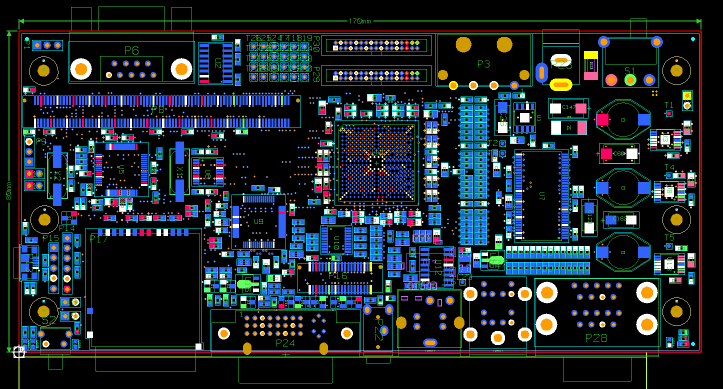 FPGA: Xilinx XC3S1600E in BGA320 pin package.
Video: 8/16/24bit video supporting VGA/HDMI/DVI + (SVHS/COMP).
Audio: Wolfson HIFI 192KHz 24bit DAC with dedicated analog supply.
Memory: 64 MByte DDR. (Current rev embedded on the motherboard).
SDcard: Can update firmware & load Core/Rom loadable OS`s using SDHC Compatable cards.
Keyboard/Mouse: PS/2 for Mouse and Keyb + internal usb. Later MBoard has ext combo PS/2 USB.
Motherboard: Mini-itx and fits in a standard enclosure/ ATX IO window.
DaugherBoard: JAMMA exp slot, eg: MC68060,Ethernet,usb/clock/ram etc.
Tiny size of 140x100mm, fits any mini-ITX cabinet.
Video output buffered by line driver with programmable filter. Option for SVHS/Composite video out using dedicated coder.
Expansion slot for JAMMA expansion board, MC68060+Ethernet board, etc.
Large Xilinx FPGA (1.6M Gates).
High quality video output including DVI and analogue output.
3 channel programmable clock generator – can generate exact base clocks for PAL/NTSC Amiga for example.
Six layer PCB for good signal integrity and stability.
SD slot, DVI out, USB, PS/2 and serial connectors.
Wolfson HI-FI quality audio DAC.
Cores for your FPGA Replay
Although this project started out for recreating arcade games, I wondered back in 2003 if it was possible to implement a complete home computer system. The available FPGAs were much smaller in those days, but a complete VIC20 still fitted.
Now we have a large number of platforms ported, including 16bit systems such as the Amiga and Atari ST.
The focus is always on implementing the original hardware as accurately as possible, but optional improvements are available too, such as a higher speed CPU, and in the Amiga case more Chip ram, RTG graphics, and modern sound with AHI support.
The content is provided "as is" without any guarantees and for educational use only. Use it at your own risk! By accessing the files here, you agree to check the individual licenses found in these files and use them accordingly (or don't use them at all). You can get more details on these downloads on the forum. If you can't accept this, please don't download anything.
The Amiga was based on the Motorola 68000 CPU and was sold by Commodore between 1985 and 1994. Its advanced graphics and sound made it popular for gaming and video production.
The Commodore 64 is a computer that was manufactured by Commodore between 1982 and 1994. It was very popular during the 80's and early 90's.
The latest firmware for your FPGA Replay. Always make sure you are up to date before reporting problems, thank you.
Galaga is a Japanese shoot-'em-up arcade game developed and published by Namco Japan and by Midway in North America in 1981. It is the sequel to 1979's Galaxian.
The VIC-20 is an 8-bit home computer that was sold by Commodore The VIC-20 was announced in 1980. The VIC-20 was the first computer of any description to sell one million units.
News
The news archive is here.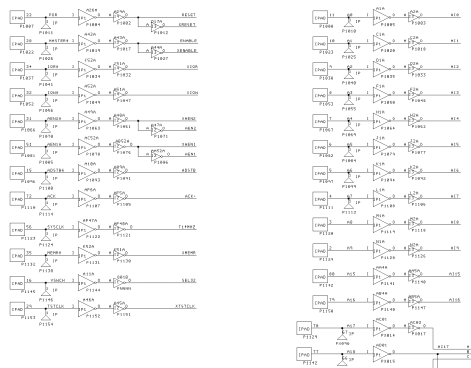 More recovered Atari documents
Still working on reformatting the archive, hopefully Christian well get some time to tidy up the PDFs. Here's the unsorted ones I extracted. I've contacted the original tool vendor, just in case they will help us with the recovery process. 4079_provisional...
READ MORE
Core Updates
The core news archive is here.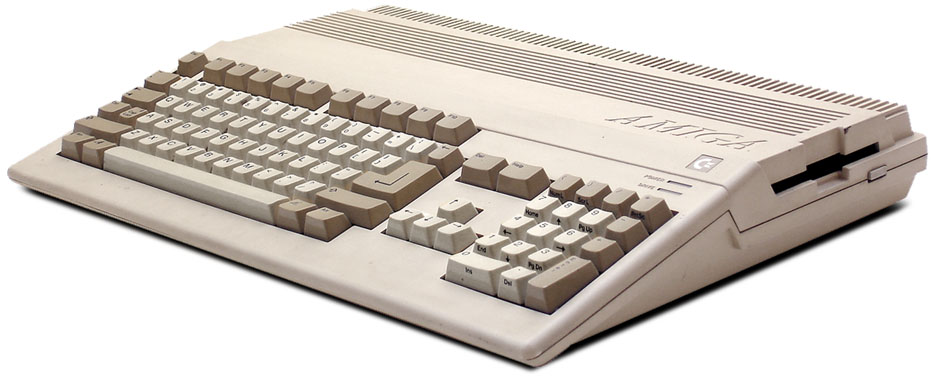 New Amiga Core
A new Amiga core was just released with a fix on the RTG interrupt + new RTG driver that handle the interrupt correctly. Download: core.
READ MORE