The Replay Board
The Replay board was designed as a low cost universal development board for running the
*cores provided here. It was time consuming to port the designs to 3rd party reference boards,
many of which had features we didn't need. The board provides a high quality base platform,
which can be expanded with various daughter boards for specific applications.
One currently in pre-production final testing is the 68060 Daughter Board.
*FPU & MMU maybe or and is Hardware/Software dependant.
A hardware wrapper and flexible firmware support for using cores on this board is provided,
see the Replay Framework page for details. (Currently under redesign).
*Cores for example might include, AmigaOS3.1-3.9 / AtariTOS1-4 or Apple][+/ ZX Spectrum etc.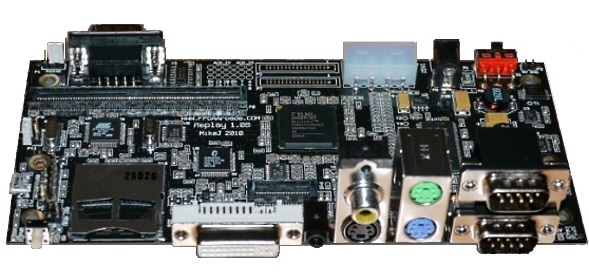 The Daughter Board
The 68K Daughter board provides a socket for an optional 68060 CPU and expands the Replay
with a second SD card slot, *Ethernet, *USB, and 256MB local/fastram for the 060 plus a real time
clock. It has a Floppy controller, a Midi interface and an Audio in facility for recording/sampling
etc. The Midi interface supports both Midi in and out for synthesizers, sequencers etc.
The CPU can also support a fan if required for higher clock frequencies etc.
The Daughterboard is also designed to be used with other Core's and Operating systems.
* Record & Sampling will be driver dependent when available on applicable Cores.
It has a 24-bit 96KHz stereo ADC.
* Ethernet consists of a 100Mbit controller. It also has a dual-port USB 2.0/Hi-Speed host controller.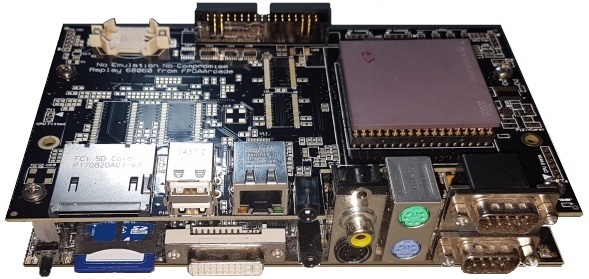 Resellers
Amedia Computer (Europe) CBM Stuff / Jim Drew (USA).
Recommended Parts
Here's a list of recommended parts and where to get them. Unfortunately the Replay board is out of stock and discontinued, but fear not, the Replay 2 board is in the making and will hopefully be ready Q1 2018. (This version will also include USB Ports for HID Keyboards & Mice).
Backplate
(No daughter board)
Dual Molex Power Splitter
Mini-ITX Cases
(More Coming soon)
Tiny size of 140x100mm, fits any mini-ITX cabinet.
Video output buffered by line driver with programmable filter. Option for SVHS/Composite video out using dedicated coder.
Expansion slot for JAMMA expansion board, MC68060+Ethernet board, etc.
Large Xilinx FPGA (1.6M Gates).
64 MB DDR2 DRAM. 48MegXtraRam+16MegBase ram.
High quality video output including DVI and analogue output.
3 channel programmable clock generator – can generate exact base clocks for PAL/NTSC Amiga for example.
Six layer PCB for good signal integrity and stability.
SD slot, DVI out, USB*, PS/2 and serial connectors.
Wolfson HI-FI quality audio DAC.
*The Internal USB connection is for connection to a host PC only.
Cores for your FPGA Replay
Although this project started out for recreating arcade games, I wondered back in 2003 if it was possible to implement a complete home computer system. The available FPGAs were much smaller in those days, but a complete VIC20 still fit.
Now we have a large number of platforms ported, including 16bit systems such as the Amiga and Atari ST.
The focus is always on implementing the original hardware as accurately as possible, but optional improvements are available too, such as a higher speed CPU, and in the Amiga case more Chip ram, RTG graphics, and modern sound with AHI support.
The content is provided "as is" without any guarantees and for educational use only. Use it at your own risk! By accessing the files here, you agree to check the individual licenses found in these files and use them accordingly (or don't use them at all). You can get more details on these downloads on the forum. If you can't accept this, please don't download anything.
The Amiga was based on the Motorola 68000 CPU and was sold by Commodore between 1985 and 1994. Its advanced graphics and sound made it popular for gaming and video production.
The Commodore 64 is a computer that was manufactured by Commodore between 1982 and 1994. It was very popular during the 80's and early 90's.
The latest firmware for your FPGA Replay. Always make sure you are up to date before reporting problems, thank you.
Galaga is a Japanese shoot-'em-up arcade game developed and published by Namco Japan and by Midway in North America in 1981. It is the sequel to 1979's Galaxian.
The VIC-20 is an 8-bit home computer that was sold by Commodore The VIC-20 was announced in 1980. The VIC-20 was the first computer of any description to sell one million units. The featured cores are just a small sample of what the Replay has to offer. A range of additional arcade and home computer cores are available and even more in development.
News
The news archive is here.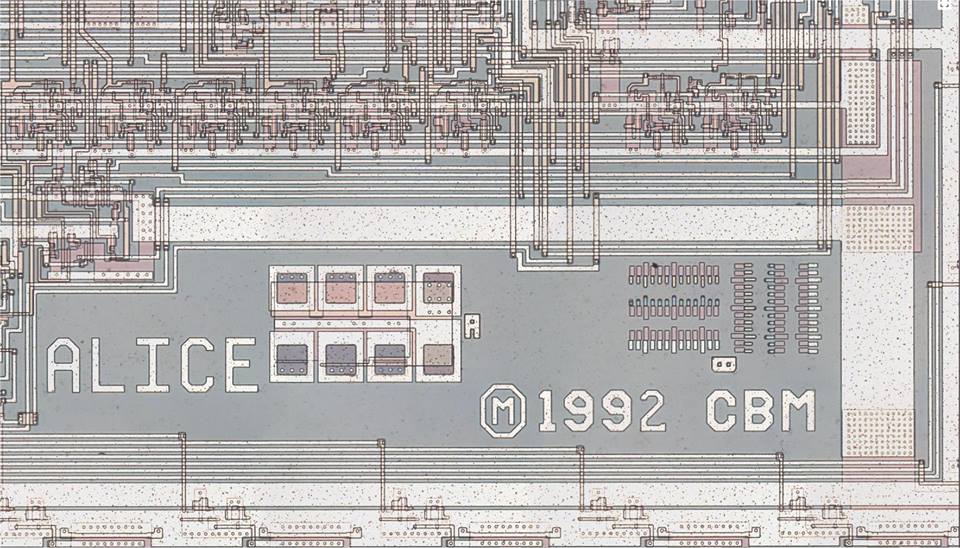 ALICE decap and imaged
We commissioned the decap and scanning of Alice, probably the most important custom chip in the Amiga. Thanks to John Hertell for the device, and to John McMaster for the decap and scan. Here is the image data in full :...
READ MORE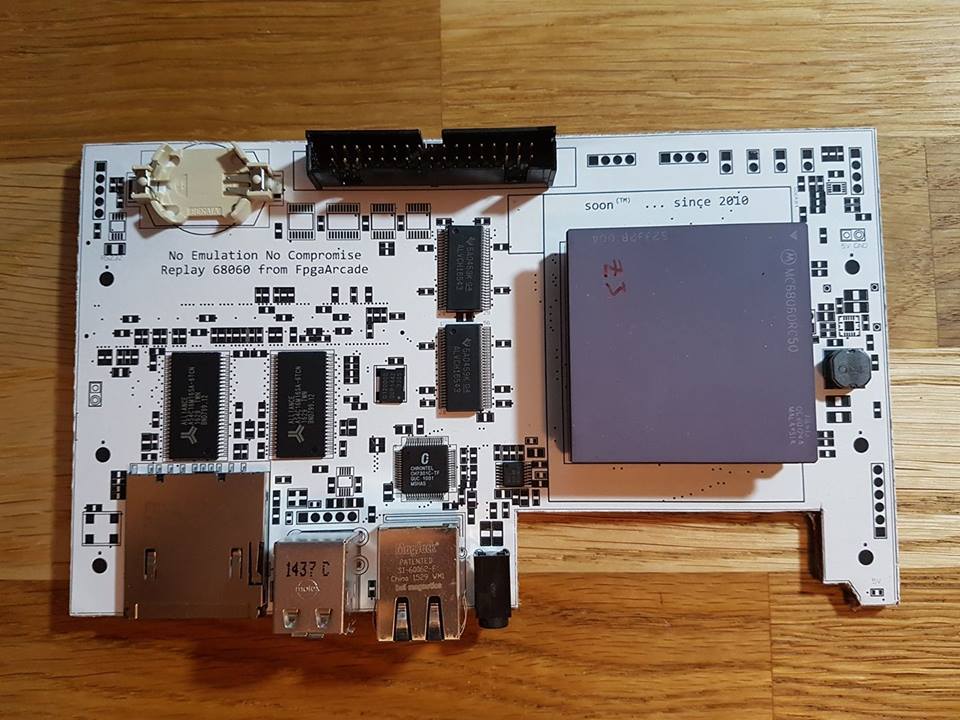 Replay 68060 daughterboard
The layout for the Replay 68060 board is complete and has been sent for manufacture. It adds 256MB of local RAM, USB, Ethernet, RTC as well as additional Midi and LED IO connectors. The picture below is a quick mock-up to see if the components actually fit :)...
READ MORE
Core Updates
The core news archive is here.
Acorn Electron Core
A little over 34 years ago, Acorn Computers Ltd released a budget version of the BBC Micro, the Acorn Electron. For a time it was apparently the best selling Micro in the United Kingdom, although in more recent years the Electron seems to be...
READ MORE
Report a bug to our bugtracker
We strive to and take pride in making our cores to most accurate on the market. Help us out by reporting your issues. Thank you!