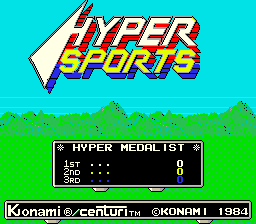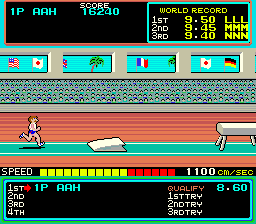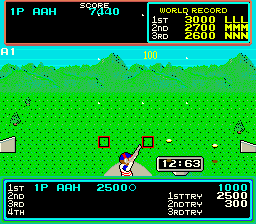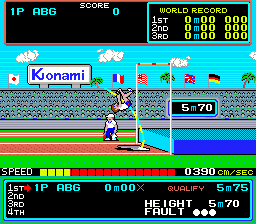 ## Video output
R1 and V4 both output 640×480 progressive with 60 Hz on DVI (-A and -D) and HDMI, respectively.
R1 furthermore supports raw video output as provided by the original arcade hardware. A composite synchronization signal is provided as HSYNC while VSYNC is constantly driven high. Feed this into a suitable monitor via an adapter chain:
1. DVI-A -> VGA
2. VGA -> RGB, CSYNC (compatible with MIST scart cable, https://github.com/mist-devel/mist-board/wiki/ScartCable)
Set the Doublescan menu item to "Off" in order to configure the core for SD mode with 15;kHz.
Hypersports Gameplay.
Hyper Sports © 1984 Konami
Hyper Sports is a multi-event sports game and is the sequel to 1983's seminal "Track and Field". As with "Track and Field", the game supports up to four players and is controlled by two RUN buttons (renamed GO for this sequel) and one action – or UP – button.
Tap GO and player will accelerate, shoot or lift. Push UP and player will jump or shoot. The game offers seven different Olympic-based events, and players must achieve qualification in each event in order to progress to the next. Game is over if you fail to qualify in an event.
The seven events are:
1) Swimming-100M Freestyle:
2) Skeet Shooting:
3) Long Horse:
4) Archery:
5) Triple Jump:
6) Weight Lifting:
7) Pole Vault:
## Controls
#### Joystick
Attach joysticks to port 1 and 2.
* Left, right -> run
* Button -> jump / throw
#### Virtual keyboard
The joystick in port 1 is emulated in parallel using the virtual keyboard:
* Cursor left, right
* enter -> jump / throw
* key 5 -> coin
* key 1 -> start 1
Note: See readme.md for Roadfighter Controls.
# Acknowledgements
* FPGA conversion by Arnim Laeuger
* mc6809 core by Greg Miller, https://github.com/cavnex/mc6809
* A-Z80 core by Goran Devic, https://github.com/gdevic/A-Z80
* SN76489 and VLM5030 cores by Arnim Laeuger
* Graphics also credited to Arcade Museum
Please read the "Readme.md" file for documentation.
IMPORTANT NOTE :
NO ORIGINAL ROM CONTENTS ARE IN THIS DISTRIBUTION. YOU WILL NEED THE ORIGINAL/ALTERNATIVE ROM FILES TO RUN THE Hypersports GAME. All logos are copyright to the respective holders.