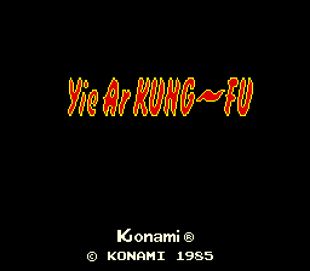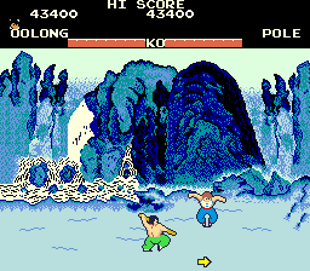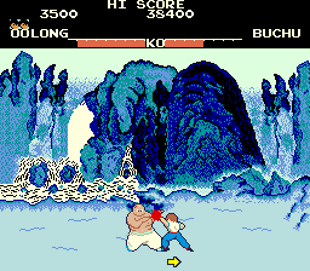 ## Video output

R1 and V4 both output 640×480 progressive with 60 Hz on DVI (-A and -D) and HDMI, respectively.
R1 furthermore supports raw video output as provided by the original arcade hardware. A composite synchronization signal is provided as HSYNC while VSYNC is constantly driven high. Feed this into a suitable monitor via an adapter chain:
1. DVI-A -> VGA
2. VGA -> RGB, CSYNC (compatible with MIST scart cable, https://github.com/mist-devel/mist-board/wiki/ScartCable)
See `yiearkungfu_15khz.ini` for further information.
YieArKungFu Gameplay.
A martial artist armed only with his fists and feet attacks opponents with powerful limbs and/or weapons. Successful attacks deplete your opponents' life bars enabling your character to progress onwards in the martial arts tournament.
The game has two different levels of martial arts contests. Each has number of different stages where your character must face a different opponent.
The first level is Hot Fighting History and is set inside of a cave. The level has five stages and the order of opponents is Buchu, Star, Nuncha, Pole and Feedle.
The second level is Master Hand History and is set outside of a palace. The level has six stages and the opponents are respectively Chain, Club, Fan, Sword, Tonfon and Blues.
Both hand-to-hand and projectile attacks are employed by opponents and different martial arts styles are represented.
Combinations of buttons and joystick movements enable different types of attacks in jumping, crouching and standing positions.
Controls ### Joystick

Attach joystick to port 1.
* Button 1 -> punch
* Button 2 -> kick
Keyboard ### Virtual keyboard

The joystick in port 1 is emulated in parallel using the virtual keyboard:
* Cursor keys
* Enter -> punch
* . -> kick
* Key 5 -> coin
* Key 1 -> start 1
Acknowledgements
* FPGA conversion by Arnim Laeuger
* mc6809 core by Greg Miller, https://github.com/cavnex/mc6809

* SN76489 and VLM5030 cores by Arnim Laeuger
* Graphics also credited to Arcade Museum
Please read the "Readme.md" file for documentation.
IMPORTANT NOTE :
NO ORIGINAL ROM CONTENTS ARE IN THIS DISTRIBUTION. YOU WILL NEED THE ORIGINAL/ALTERNATIVE ROM FILES TO RUN THE YieArKungFu GAME. All logos are copyright to the respective holders.