Cosmic game simulation for FPGAARCADE Replay
All rights reserved — (c) copyright 2011 — Credits go to Mike Johnson. Ver 1.0
Cosmic Avenger is a horizontally scrolling shooter arcade game developed and published by Universal Entertainment Corporation and released in 1981. Like Universal's Lady Bug, Cosmic Avenger was not a hit in arcades, but found success and a larger audience as a launch title for the ColecoVision console. It was not ported to other systems. Wes Hupp holds the official record for this game with 117,290 points on November 17, 1982.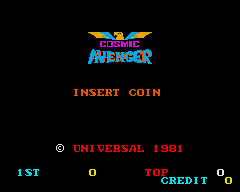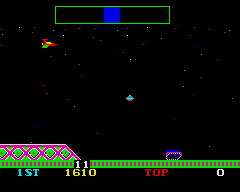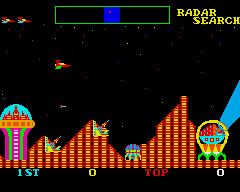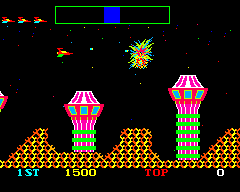 Download
Note: Cosmic Avenger is part of the ladybug core.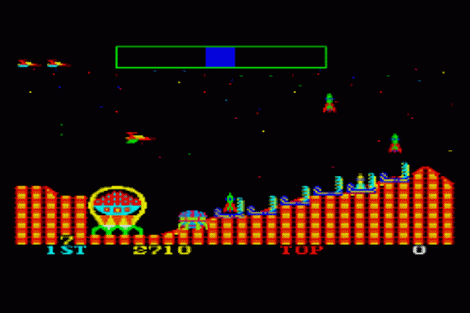 Legal Issues
Redistribution and use in source and synthesized forms, with or without modification, are permitted provided that the following conditions are met:
Redistributions of source code must retain the above copyright notice, this list of conditions and the following disclaimer.
Redistributions in synthesized form must reproduce the above copyright notice, this list of conditions and the following disclaimer in the documentation and/or other materials provided with the distribution.
Neither the name of the author nor the names of other contributors may be used to endorse or promote products derived from this software without specific prior written permission.
Please note:
The copyright of the ROM images is owned by third parties, thus the above does not apply to them. You have to be entitled separately to use the ROM images together with the FPGA Cosmic Avenger design. Owning an original PCB might be ok, but I am not liable for any copyright violations that arise from your use of the FPGA Cosmic Avenger design.
I will ignore any requests for a copy of the ROM images.
THIS SOFTWARE IS PROVIDED BY THE COPYRIGHT HOLDERS AND CONTRIBUTORS "AS IS" AND ANY EXPRESS OR IMPLIED WARRANTIES, INCLUDING, BUT NOT LIMITED TO, THE IMPLIED WARRANTIES OF MERCHANTABILITY AND FITNESS FOR A PARTICULAR PURPOSE ARE DISCLAIMED. IN NO EVENT SHALL THE AUTHOR OR CONTRIBUTORS BE LIABLE FOR ANY DIRECT, INDIRECT, INCIDENTAL, SPECIAL, EXEMPLARY, OR CONSEQUENTIAL DAMAGES (INCLUDING, BUT NOT LIMITED TO, PROCUREMENT OF SUBSTITUTE GOODS OR SERVICES; LOSS OF USE, DATA, OR PROFITS; OR BUSINESS INTERRUPTION) HOWEVER CAUSED AND ON ANY THEORY OF LIABILITY, WHETHER IN CONTRACT, STRICT LIABILITY, OR TORT (INCLUDING NEGLIGENCE OR OTHERWISE) ARISING IN ANY WAY OUT OF THE USE OF THIS SOFTWARE, EVEN IF ADVISED OF THE POSSIBILITY OF SUCH DAMAGE.