The original hardware recreated in a single FPGA!
Release 4 is targeted at newer Xilinx devices which have larger block RAMs, and will run on the Spartan3e starter kit.
Sean Riddle has expanded this to an 8 game multigame where you can switch between
Pacman, Pacplus, Pong, MrTNT, MsPac, Crush Roller, Eyes and Lizard Wizard.
Please read the readme.txt and look in the build_roms.bat file for the names of all the ROM images you need to provide in the \roms directory. This batch file will produce a MCS file you can then use to program the on board FLASH with the Xilinx programmer. Compile the FPGA as usual (build_xst.bat), download using IMPACT and you are all set.
Release 2 is still available, and should be used for Virtex1 style parts. The newer code is much easier to target to other device families, the Xilinx specific clock code is in a separate module, and the binary to VHDL program RomGen will generate RTL style code if required.
Note, SW0 (bottom right) enables/disables the scan doubler for VGA displays.
Thanks to many people, in particular :
Goran Devic for the A-Z80 CPU core
David Widel for software advice
Kev 'Mowerman' & Mike Halland for general Pacman details
Darren P for letting me rip apart his ZX81 and steal the original T80 cpu !
Simon N for the Joystick
Please read the "README" file for documentation.
IMPORTANT NOTE :
NO ORIGINAL ROM CONTENTS ARE IN THIS DISTRIBUTION. YOU WILL NEED THE ORIGINAL/ALTERNATIVE ROM FILES TO RUN THE PACMAN GAME
A simulation model of Pacman hardware
Copyright (c) MikeJ – September 2002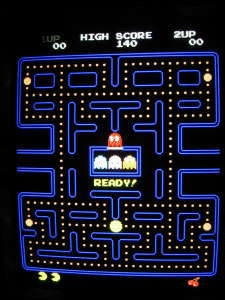 Actual photo taken by compiling and running the code here.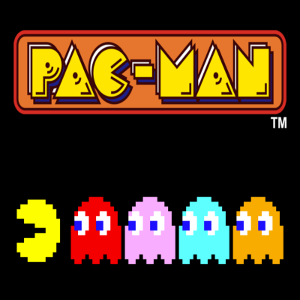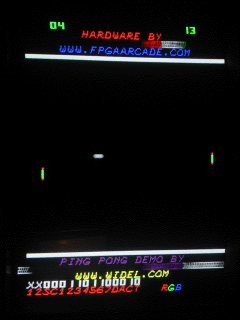 David Widel's pong demo that is included in the distribution.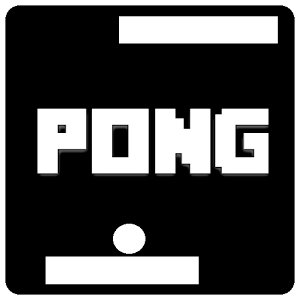 THIS CODE IS PROVIDED BY THE COPYRIGHT HOLDERS AND CONTRIBUTORS "AS IS" AND ANY EXPRESS OR IMPLIED WARRANTIES, INCLUDING, BUT NOT LIMITED TO, THE IMPLIED WARRANTIES OF MERCHANTABILITY AND FITNESS FOR A PARTICULAR PURPOSE ARE DISCLAIMED. IN NO EVENT SHALL THE AUTHOR OR CONTRIBUTORS BE LIABLE FOR ANY DIRECT, INDIRECT, INCIDENTAL, SPECIAL, EXEMPLARY, OR CONSEQUENTIAL DAMAGES (INCLUDING, BUT NOT LIMITED TO, PROCUREMENT OF SUBSTITUTE GOODS OR SERVICES; LOSS OF USE, DATA, OR PROFITS; OR BUSINESS INTERRUPTION) HOWEVER CAUSED AND ON ANY THEORY OF LIABILITY, WHETHER IN CONTRACT, STRICT LIABILITY, OR TORT (INCLUDING NEGLIGENCE OR OTHERWISE) ARISING IN ANY WAY OUT OF THE USE OF THIS SOFTWARE, EVEN IF ADVISED OF THE POSSIBILITY OF SUCH DAMAGE.
You are responsible for any legal issues arising from your use of this code.