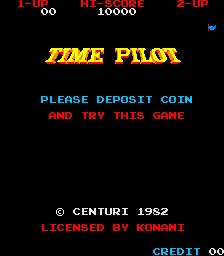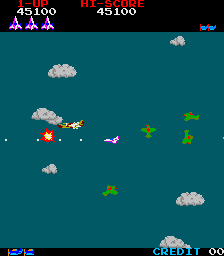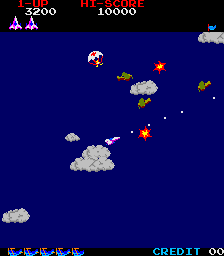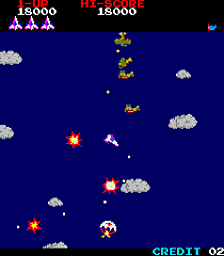 TimePilot Gameplay.
Players assume the role of a pilot of a futuristic fighter jet trying to rescue fellow pilots trapped in different time eras.
In each level, players battle enemy aircraft and then a stronger aircraft. Players' fighter jet is in the center of the screen at all times. Players eventually battle a mothership of the time period they are in; once the mothership is defeated, they move onto the next time period. Parachuting pilots will occasionally appear and award players points if collected.
Controls ### Joystick

Attach joystick to port 1. A second joystick is currently not supported.
Keyboard ### Virtual keyboard

The joystick in port 1 is emulated in parallel using the virtual keyboard:
* Cursor up, down, left, right
* enter -> fire
* key 5 -> coin
* key 1 -> start 1
Acknowledgements
* FPGA conversion by Arnim Laeuger, Dar (darfpga@aol.fr)
* A-Z80 core by Goran Devic, https://github.com/gdevic/A-Z80
* YM2149 core by Mike Johnson
* Graphics also credited to Arcade Museum

## Video output
R1 and V4 both output 640×480 progressive with 60 Hz on DVI (-A and -D) and HDMI, respectively.
Please read the "Readme.md" file for documentation.
IMPORTANT NOTE :
NO ORIGINAL ROM CONTENTS ARE IN THIS DISTRIBUTION. YOU WILL NEED THE ORIGINAL/ALTERNATIVE ROM FILES TO RUN THE TimePilot GAME. All logos are copyright to the respective holders.